Recharge your batteries
Another fast-paced week gone by. What if you took a break this weekend? Disconnect, relax and take time out. Yearning for peace and quiet, our Terres du Val de Loire are just the place for you! Come and experience unique, authentic and convivial moments at the heart of our preserved nature.
---
We promise you a getaway where you can slow down
Located on the banks of the royal river, the medieval town of Meung-sur-Loire offers its charm and elegance. It is both a peaceful and dynamic town where people take the time to live. You can discover it on foot! Come and stroll through the old medieval streets with their half-timbered and stone houses, and gardens full of flowers. Step into the town's lovely small shops, workshops and artist galleries such as the Rive Mauve gallery which is bound to astonish you. Located in the stables of an old mill, you will discover here the works of local artists.
You will notice many water mills present in the town. Take this opportunity to discover them by following the "balade des Mauves et des Moulins" trail. And if you like antique objects, go to Porte d'Amont Antiquités, a beautiful bourgeois house with discreet charm. Then, let your steps lead you to the Place du Martroi, at the heart of the town centre, where two emblematic monuments cohabit, the Saint-Liphard Collegiate Church and the Château de Meung-sur-Loire, one of the largest and most unusual in the region, as it is nicknamed the "two-faced Château." This furnished Château, which can be visited from the attics to the vaults is a must-see. From April to October, many events are held there such as the grandiose White Night Party in August.
Fancy a nice cup of coffee on a terrace facing the Château? Stop at the Café du Commerce, which is decorated in the style of a Parisian "bistrot." And for a lovely romantic and gourmet address, book a table at À la Maison and enjoy a traditional, creative and generous cuisine.
And if there is a place where you must let your feet guide you, it is on the banks of the Loire, as here, time stands still! Whether from the banks or on the water, there are many ways in which to enjoy this wild river, listed as a UNESCO World Heritage site. At the Port du Bout du Monde, stop at the La Capitainerie to have a drink on one of the loungers or have a meal while contemplating the Loire, and meet Claire and Denis, who will take you to discover the river on-board a traditional boat. You can also eat on the Loire, during your outing.
You prefer wine? Then you need to go to the Guéridon. You will meet Mickaël, a true wine enthusiast. For a more unusual address, we recommend Les Petits Instants, right next door. This literary café, which is also an exhibition hall, is a convivial and warm place where you can take your time. A popular address with the inhabitants of Meung, especially on Sunday mornings, the market day, which was elected as the most beautiful in the department this year.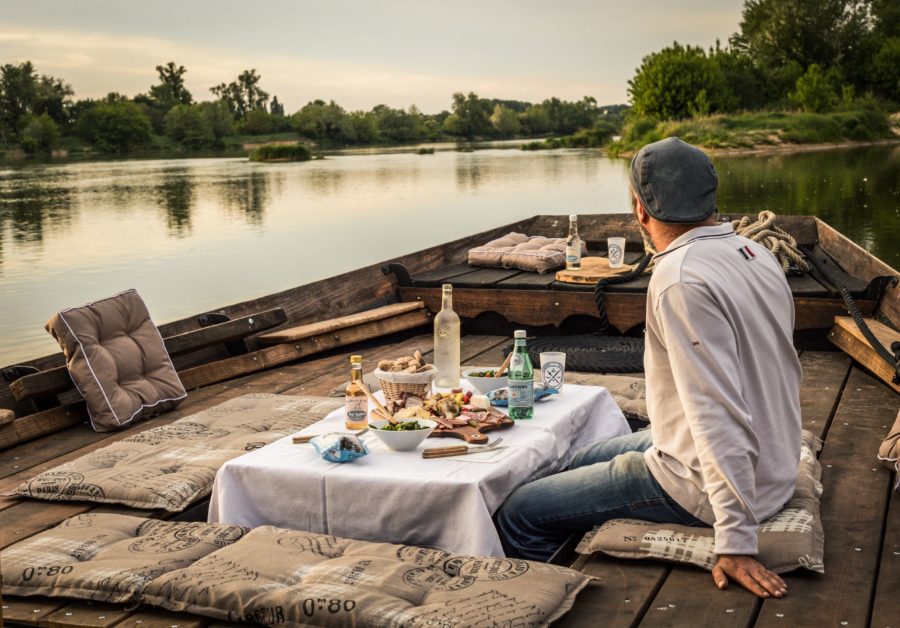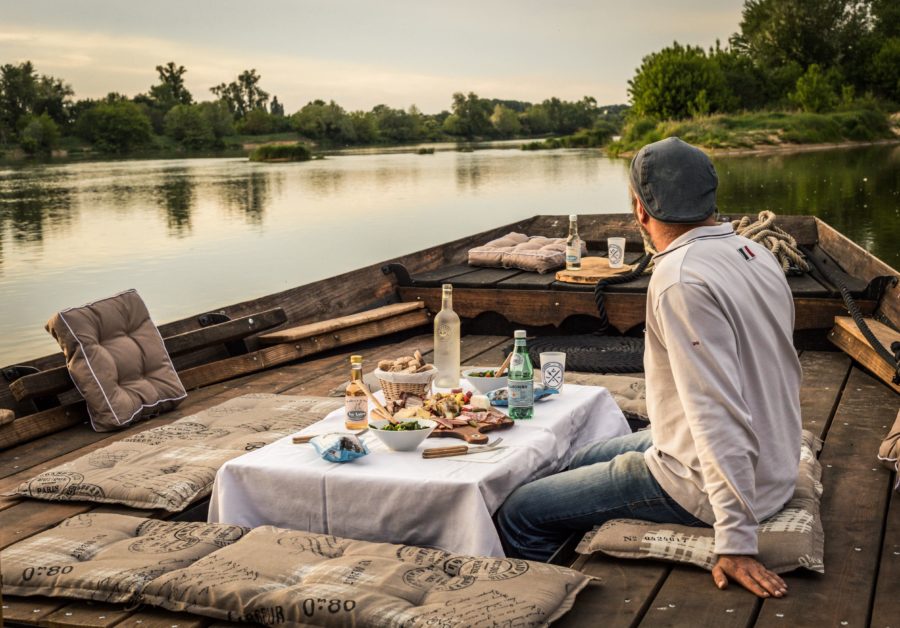 Continue to explore the banks of the Loire, hop on your bike and enjoy the moment. If you don't have a bicycle, don't panic! You can rent bicycles from our tourist information office. Ride along the Loire and contemplate its wild and preserved nature. Our territory extends over some fifteen kilometres, between Orleans and Chambord, and is ideally positioned along the "Loire à vélo" cycle route.
Feel free to cross over the river by using the suspension bridge of Meung-sur-Loire in order to visit the Jardins de Roquelin gardens, which offer a clever mix of antique roses and annual plants. This visit promises a true romantic break! Don't forget to visit their shop where you will find delicious rose-flavoured jams as well as second-hand objects.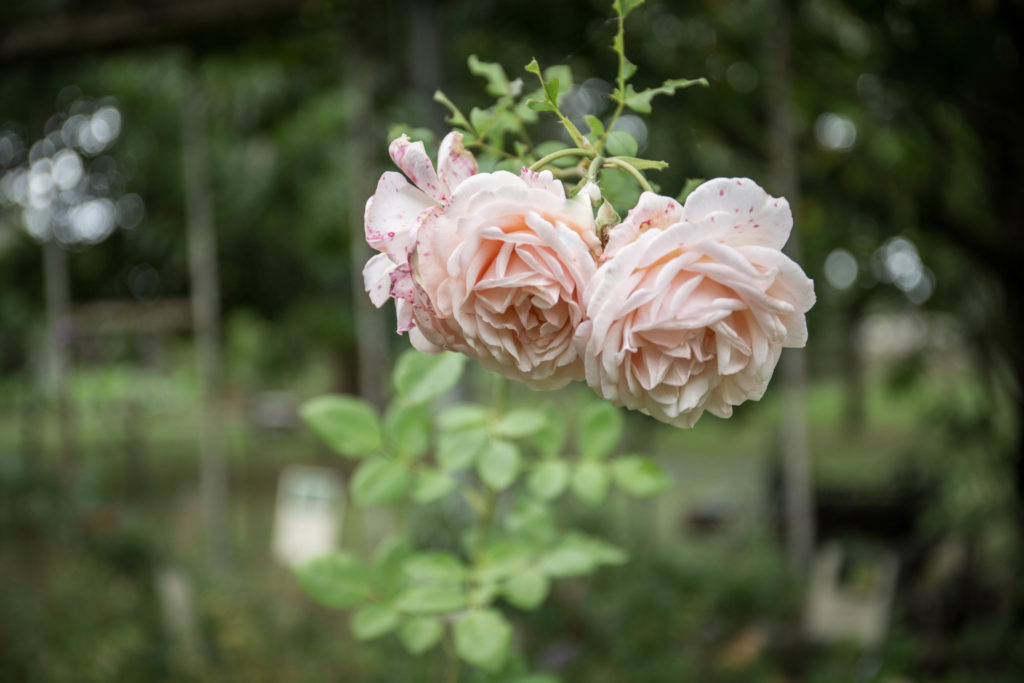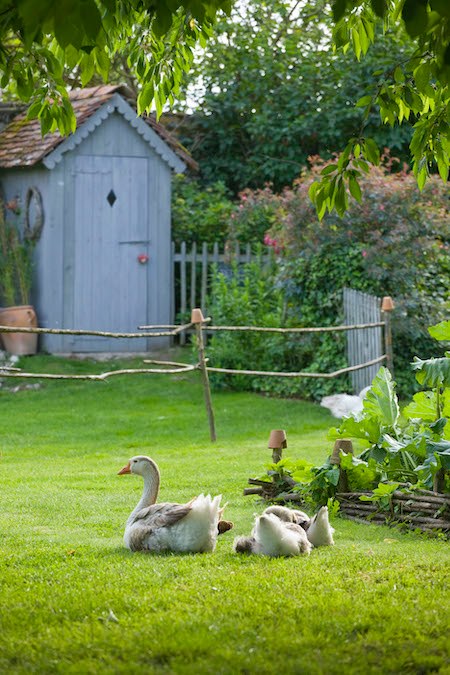 The end of the day is approaching, what if you put your suitcases down? We have great accommodations to recommend you.
After a good night's sleep, follow the Mauves and take the road to Baule, then stop for a break at the "guinguette" café La Corne des Pâtures and enjoy a nice drink with a stunning view on the Loire. Good atmosphere guaranteed, with concerts and activities during the summer season!
Now, head for Beaugency. Imbued with strong medieval character, this Loire-side town has what it takes. It wasn't listed among the "100 plus beaux détours de France" (100 small French tows that are worth the detour) for nothing. Come and wander through its ancient little streets, contemplate its many architectural treasures and discover its good addresses. If you are in town on Saturday morning, don't miss the market to discover the local products.
Whether for a coffee or tea time break or to enjoy tasty dishes, take the time to stop at César et Firmin who also offer delicious brunches. If you're looking for a gastronomic restaurant, we recommend you to go to Le P'tit Bateau to taste refined local cuisine. You fancy a more "bistrot" type of cuisine? Then go to Chez Henri II. For a culinary voyage, book at table at L'Idée. Finally, for an ethnic and solidarity restaurant, push the doors of Teo Jasmin, a place renown for its conviviality and the quality of its home-made cuisine.
.
.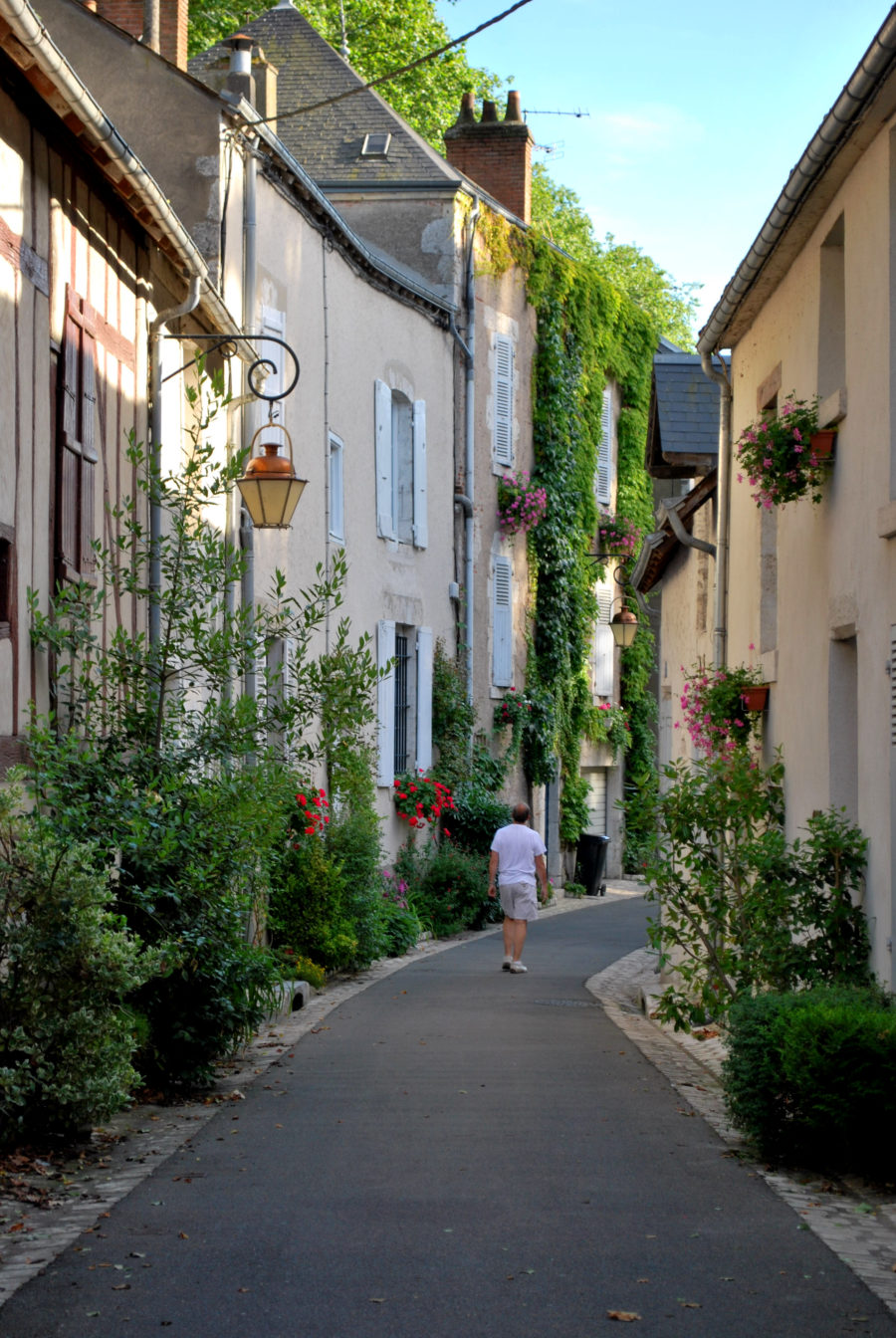 Go to the banks of the Loire in Beaugency and the outdoor theatre, a stunning spot for a few photos, before setting off in the direction of Tavers. Fall under the spell of the village's picturesque little streets. Stroll along the Lien stream to admire the pretty wash houses and water mills. Your walk will lead you to the Fontenils and Eaux Bleues site, with its permanently bubbling submerged quicksands, giving this water source a lagoon blue colour. Change of scene guaranteed and little nap advised!
While passing through our Terres du Val de Loire, it is highly likely you will hear of "Cléry raconte" in Dry. This Sound & Light show is held during the summer and brings great moments of French history back to life. It has become one of the great living shows in the region. We advise you to book your seats in advance.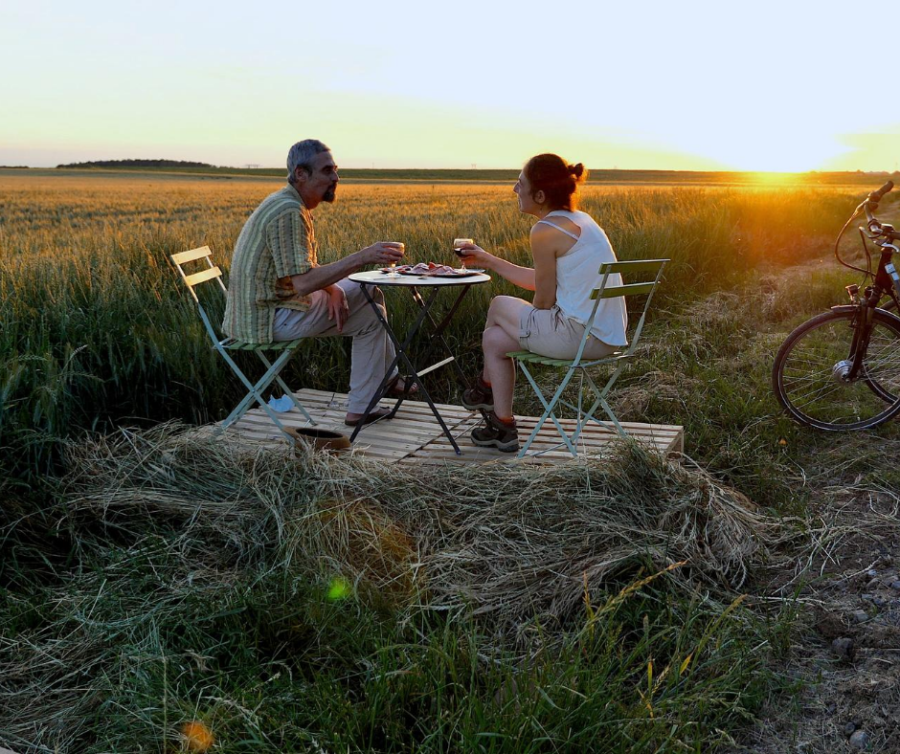 And if you enjoy gastronomy, stop at the Ferme de Clossy in Lailly-en-Val, between Beaugency and Cléry-Saint-André, in order to taste delicious goats' cheeses. For a gastronomic lunch or dinner, go to La Villa des Bordes to savour dishes prepared with local products. This spot is even more enjoyable in the summer, sitting on the terrace, under centenary trees, facing the mansion. While you are in Cléry-Saint-André, taste the Orléans and Orléans-Cléry A.O.C.wines of Un Vin, une Rencontre. Valérie will share with you her passion for the local terroir!
.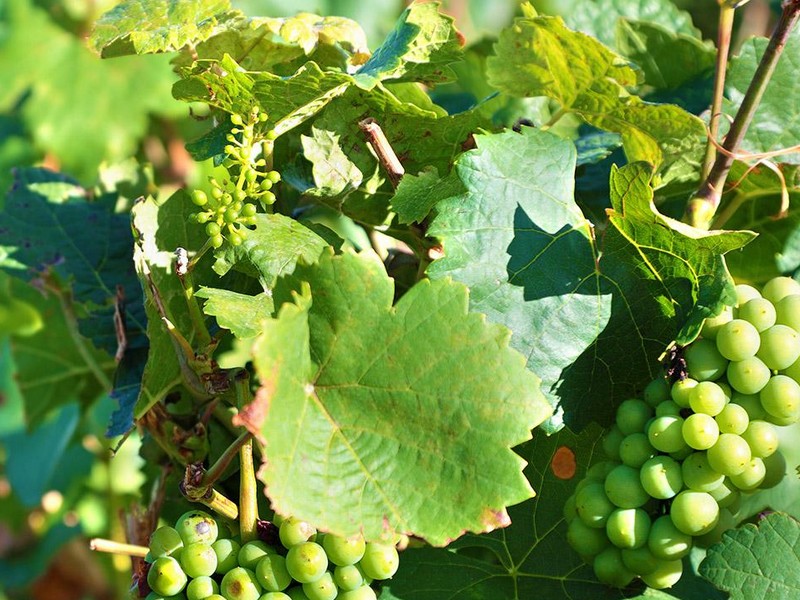 If you have a little time left, continue the tasting experience by going to meet other producers. We invite you to take the road to the village of Chaingy to discover a 100% craft brewery and taste their traditionally-brewed Octopus beers.
And as you won't want leave our Terres any more, don't worry, there is still lots more to see. Here is a selection of activities to recharge your batteries and see other things. All opportunities are good to come back and continue your experience, discoveries and encounters. See you soon!
---
To complete your experience:
---
Our favourite accommodations to recharge your batteries:
---